The award-winning Proud Mary Theatre Company, South Carolina's Alternative Theatre Group, is proud to announce Audition Dates for the SC Community Theatre Premiere of FUN HOME: THE BROADWAY MUSICAL.
Auditions will be held two weekends in February:
– Saturday, February 16 @ 9 a.m.-4 p.m. (adults only)
– Sunday, February 17 @ 10 a.m.-Noon (youths only)
SCTA Upstate Unified Auditions at Greenville Little Theatre, 444 College St. in Greenville
(Register at http://www.scta.org)
– Saturday, Feb. 23, (2 pm for youth, 3:30 for adults) at West Main Artists Co-Operative, 578 West Main St. in Spartanburg (No appointment necessary)
– Sunday, Feb. 24, 2-5 p.m. ALL CALLBACKS at West Main Artists Co-Operative in Spartanburg
For SCTA auditions please follow SCTA audition guidelines with the 90 second option of music/monologue.
For Spartanburg auditions, please prepare 16 Bars of a musical theatre selection (verse/chorus).
SEE ROLES BELOW for Additional Audition Song Requirements.
Adult actors should also prepare a one-minute monologue.
Please provide headshot, resume, sheet music for accompanist, and any conflicts.
ABOUT FUN HOME
Performances: June 7-16, 2019
Rehearsals: April 1- June 6, 2019

Director: Kate Roark
Music Director: Janice Issa Wright
Producer: Sandy Staggs
Stage Manager: TBA
Costume Designer: TBA
Lighting Designer: TBA

All performances and most rehearsals (Monday-Thursday with occasional weekends and tech week) will be held at WMAC in Spartanburg.
YOUTH ROLES/AUDITION SONGS
SMALL ALISON – around 9 years old RING OF KEYS
CHRISTIAN BECHDEL – Alison's brother, around 10 years old
JOHN BECHDEL – Alison's brother, around 6 years old
ADULT ROLES/AUDITION SONGS
ALISON – 43 years old, a cartoonist TELEPHONE WIRE
MEDIUM ALISON – 19 years old, CHANGING MY MAJOR
BRUCE BECHDEL – Alison's fatherHELEN BECHDEL – Alison's mother DAYS & DAYS
ROY – a young man RAINCOAT OF LOVE
JOAN – a college student
---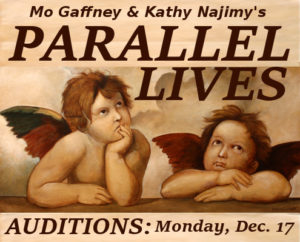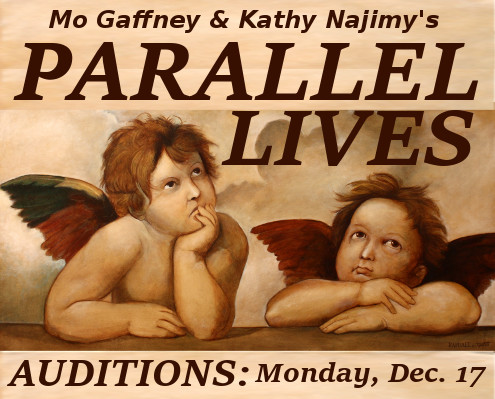 AUDITION NOTICE: The award-winning Proud Mary Theatre Company is seeking 2 Amazing, Drop-Dead Funny-as-H-E –double Hockey Sticks, Risk-Taking, Kick-Ass Women who are up to the challenge of playing partners in multiple roles in this comedic classic: PARALLEL LIVES by the dynamic comedy duo Mo Gaffney ("Absolutely Fabulous") and Kathy Najimy ("Sister Act" and "Hocus Pocus"). Directed by Ellen Jones.
Prepare a brief comedic monologue and be prepared to read from the script (available by request from our wonderful stage manager Alyssia Hazel Chaplin  by email at alyssia@email.uscupstate.edu.
Please bring Resume, Headshot & Conflicts/Calendar.
AUDITION DATE:
Monday, December 17 @6:30-8:30 p.m.
West Main Artists Co-Operative
578 West Main Street, Spartanburg
 SHOW DATES: March 1-14 (Fridays & Saturdays @8 p.m. and Sundays @3 p.m.) in Spartanburg (& possibly Greenville)
REHEARSALS: Start Jan. 26 in Spartanburg (generally Friday evenings, Saturday & Sunday mornings/afternoon & some Monday evenings)