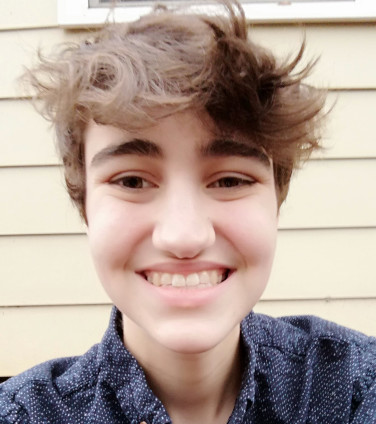 Noah Fitzer plays Christian Bechdel, Alison's older brother in Fun Home and will also play the title character in our next production BOY by Anna Ziegler Aug. 9-18.
Noah is a rising sophomore at Agnes Scott College, double-majoring in Philosophy and Music Composition. They were an active member of the drama club at Southside High School, their most notable role being Olive Ostrovsky in "The 25th Annual Putnam County Spelling Bee." They then spent two years at the South Carolina Governor's School for Science and Math. Noah writes music in their spare time, and they hope to make a career of being a singer-songwriter.
What attracted you to this role? To this musical?
Fun Home was the first time I saw masculinity in women being viewed as something noble and beautiful/handsome. When I listened to the soundtrack in high school, it empowered me, and it quickly became one of my favorite musicals of all time. I was willing to do anything to be a part of this story.
What was your familiarity with FUN HOME?
I've loved the soundtrack ever since I first heard it. My mother took me on a trip to New York in 2016 so that I could see it before it closed on Broadway, which was my dream at the time. Thanks, Mom!!!
Have you read the memoir the show was based on?
Sure have. To be honest, a lot of the literary references went over my head the first time I read it. I'm due for a re-read.
What can you tell us about your character?
Christian is Alison's older brother as a preteen. He's excited to be a part of the epic plans his sister and his father orchestrate.
What are some of the more interesting things you have discovered or done in the rehearsal process?
Bonding with Eve and Josh, who are real siblings, helped me to find a role within their dynamic. I also emulated my older brother quite a bit. I've been so impressed with my castmates, and I'm seeing that hard work and research bring portrayals from good to incredible.
What is the most challenging part about your role or songs?
Pretending to be a kid when there is a real kid in the scene with me.
What have you learned about yourself from playing this role?
I will never get tired of watching incredible performances from the wings. I've also become significantly more confident about my own theatricality. But mostly I've learned that I can play a little boy.
What do you hope patrons will take away from their Fun Home experience?
Parenting style and community attitude can make or break a child's quality of life. Also, I hope queer women will see Alison's journey of style and identity as a celebration of themselves, and I hope everyone else gains a better understanding of the significance of a person's butch gender presentation.