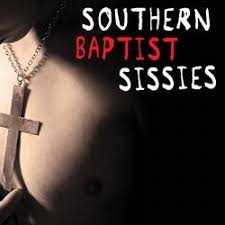 SOUTHERN BAPTIST SISSIES By Del Shores
UPSTATE PREMIERE!
August 2-5, 2018 Spartanburg
August 9-12, 2018  Greenville
This story follows the journey of four gay boys in a Texas Baptist Church who search for love and acceptance in the church and clubs of Dallas, while desperately trying to deal with the pain and rage of growing up gay in the South.
Directed by Barry Whitfield, USC Upstate Theatre Professor
SINGLE TICKETS AVAILABLE Soon!
_______________________________________________________________________________
OUR PREVIOUS SHOWS for 2017-18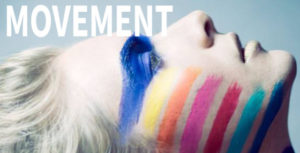 TWO WORLD PREMIERES!
OUR FIRST SOUTHERN FRIED PRIDE PLAY FESTIVAL
MOVEMENT, an Original Devised Performance Piece on Gay History and the Gay Rights Movement.
Directed & Choreographed by Jenna Tamisiea Elser, co-founder of Glow Lyric Theatre and head of Converse Opera.
ALSO on the Program: The World Premiere of "The Kiss" by Barry Whitfield, USC Upstate Theatre Professor
May 25 – June 3, 2018
USC Upstate Blackbox Theatre in Spartanburg,
Humanities and Performing Arts Building
800 University Way, Spartanburg, SC 29303
TICKETS are Now Available.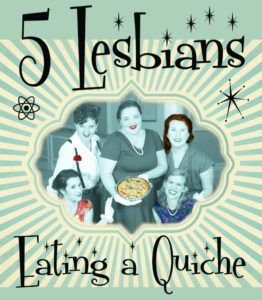 GREENVILLE SHOW ADDED!
5 LESBIANS EATING A QUICHE
By Evan Linder and Andrew Hobgood
UPSTATE PREMIERE!
February 1-4 & 8-10, 2018
Converse College Laird Studio Theatre
February 11, 2018 @ 3 p.m.
Converse College Laird Studio Theatre

Winner of 2012 NYC International Fringe Festival!

It's 1956 and the Susan B. Anthony Society for the Sisters of Gertrude Stein are having their annual quiche breakfast. Will they be able to keep their cool when Communists threaten their idyllic town?
Directed by Kate Roark.

TICKETS AVAILABLE NOW!
Click HERE!
____________________________________________________________________________________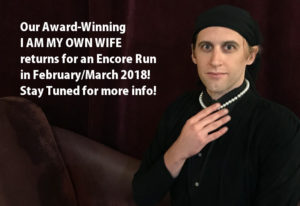 I AM MY OWN WIFE
By Doug Wright
ONE-MAN-SHOW!!
Our Award-Winning Show returns for an Encore Performance in Feb/March 2018
Winner of the 2004 Pulitzer Prize and Tony Award, "I Am My Own Wife" is based on a true story, and inspired by interviews conducted by the playwright. Our debut show stars Upstate actor Dave LaPage (recently in "Death and the Maiden" and "Am I Dead?" at Centre Stage and "Important Hats of the Twentieth Century" at The Warehouse Theatre) in 30 different roles in this fascinating tale of Charlotte von Mahlsdorf, a real-life German Transwoman (a self-described transvestite) who managed to survive both the Nazis and the East German Communist regime, as well as operate a museum and an underground gay and lesbian support group.
This program is funded in part by Chapman Cultural Center, its donors, the County and City of Spartanburg and the South Carolina Arts Commission which receives support  from the National Endowment for the Arts and the John and Susan Bennett Memorial Arts Fund of the Coastal Community Foundation of SC.
__________________________________________________________________________________________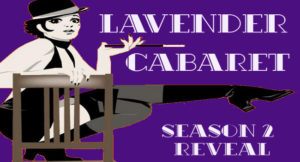 Saturday, June 23, 2018
Join us for Proud Mary Theatre Company's LAVENDER CABARET & SEASON TWO REVEAL. Enjoy selections from some of your favorite gay-themed Broadway musicals including LA CAGE AUX FOLLES, FALSETTOS, FUN HOME, HEDWIG & THE ANGRY INCH and more while sipping wine and nibbling on light hors d'oeuvres. There will be fabulous items to bid on in our silent auction, Raffle prizes, and we will be revealing our exciting line-up of shows for our 2018-19 Season including our very first musical production. Doors open at 7 p.m. at show starts at 8 p.m. Tickets are $15. Aug Smith on Main, 174 E. Main St. in Spartanburg
Tickets at http://events.eventzilla.net/e/lavender-cabaret–season-two-reveal-2138960037