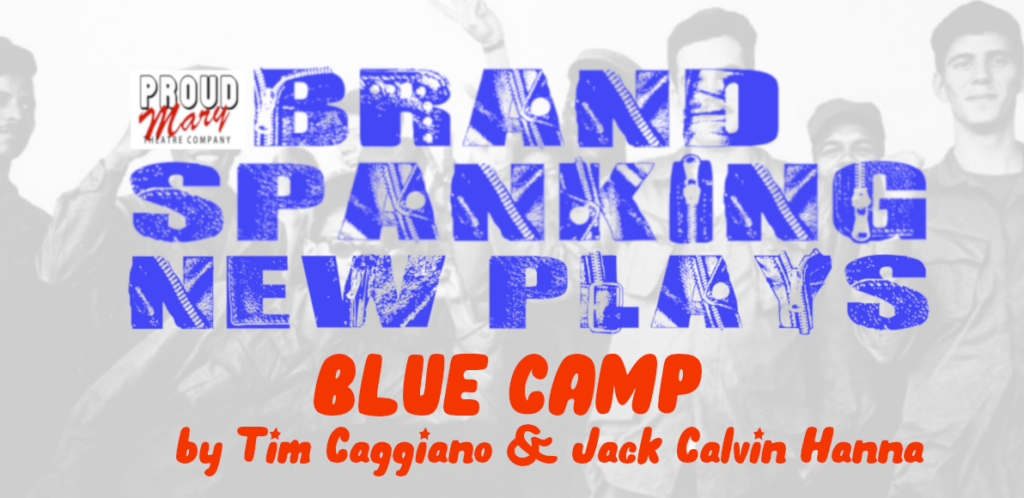 Our SPANKING NEW VIRTUAL PLAY SERIES streams every Tuesday night with a new work read by some of the Upstate's most amazing actors. Explore some new playwrights, characters, voices, and social issues with us. Some of these plays are being considered for future production and your comments and input are encouraged.

Blue Camp by Tim Caggiano and Jack Calvin Hanna premieres TUESDAY, APRIL 28 @ 8 Pm on our FACEBOOK PAGE. set at a detention center on Treasure Island in San Francisco Bay during the early days of the Vietnam War as outed gay soldiers confront their tormentors and the hypocrisy of the military's treatment of gay servicemen.

Our Virtual Play Readings are TOTALLY FREE, but we will be accepting Donations on our website at proudmarytheatre.com/donate
Also, visit the playwrights' BLUE CAMP FACEBOOK PAGE for more information.
#spankingbrandnewplays #proudmarytheatre #bluecamp
The Cast of BLUE CAMP:
ANNOUNCER – LAURA BUNN
THEUS MCCUTCHEN – RYAN BARRY
BILLY WHEELER – GUILLERMO JEMMOTT
BARRY HOWARD – ALEX POTEAT
ARNOLD MALLOY –JOEL PERKIN
JANTZEN HILL – JONATHAN DAVIS
ALVIN BAILEY – TIM SPEARS
GARY PETERSON – JR BLOOMER
SERGEANT SWANGER – COPELAND BROWN
STEVE DUGGER – KEN SNART
COLONEL – NICHOLAS OWENS
DIRECTOR/READER – SANDY STAGGS
FROM THE PLAYWRIGHTS TIM CAGGIANO AND JACK CALVIN HANNA:
We dedicate this work to our friend Dennis L., who was expelled from the U. S. Navy in August 1964 and who told us the true story of the baseball game with the other inmates, our initial inspiration. Dennis' discharge was later upgraded to honorable. He was recently married to his partner, a fellow sailor whom he met at the Naval facility Treasure Island when they were awaiting discharge. They have been together ever since and reside in Dennis' home state. We also were inspired by Sergeant Perry Watkins who served in the U. S. Army while openly gay beginning in 1968 and was allowed to reenlist three times thereafter and during his time in the Army he performed in drag at Army sponsored events. In 1984 he was separated from the service. He took his case all the way to the Supreme Court and won.

We also honor Vietnam Veteran, Sergeant Leonard Matlovich winner of the Purple Heart and Bronze Star, who began his service in the U. S. Air Force in 1963 and who purposely outed himself to the military in order to challenge the ban on gays. He appeared on the cover of Time Magazine in 1975 with the caption, "I am a homosexual." Sgt. Matlovich lived the ugly reality of first engaging in combat service before being expelled from the military for being gay which is a potential fate of the gay soldiers in Blue Camp.
The play primarily takes place on a bifurcated stage with criminal inmates and barracks on one side and accused homosexuals and barracks on the other side of the stage. There is a lot of taunting back and forth and when the dialogue and action shift from one barracks to the other, those not engaged read newspapers, nap, play cards, read magazines, look at photos, and taunt. Only Arnold ever reads a book.

This play is dedicated to all the men and women who were kicked out of the armed forces for being gay throughout our history and especially to those who were forced into combat with the service having knowledge of their homosexuality and then kicked out after. We also dedicate this work to all trans individuals facing discharge.