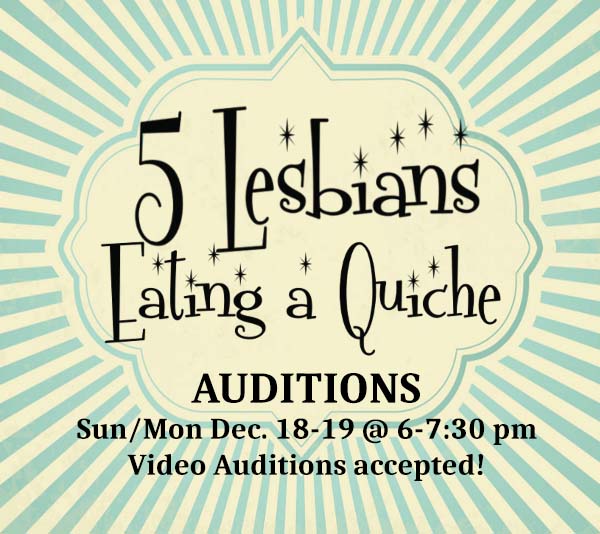 Proud Mary Theatre is NOW CASTING for 5 LESBIANS EATING A QUICHE by Evan Linder and Andrew Hobgood
In-person auditions are SUNDAY & MONDAY, DEC. 18-19 @ 6-7:30 pm
Video auditions accepted also!!!
Artists Collective Spartanburg
578 West Main St.
Spartanburg, SC 29301
Showdates are February 24 – March 5, 2023
UNITARIAN UNIVERSALIST CHURCH of SPARTANBURG
Prepare a 1-minute comedic or dramatic monologue and be prepared to read from sides.
Send Video Link & Resume/Headshot to [email protected]
BIPOC & LGBTQIA+ ACTORS ENCOURAGED TO AUDITION!
Directed by Sandy Staggs this comedy is set in the 1956 astheThe Susan B Anthony Society for the Sisters of Gertrude Stein are having their annual Quiche Breakfast. When the Communists attack, the closet doors blow open as secrets, repressed desires and an insatiable hunger for quiche are released.
CHARACTERS:
LULIE STANWYCK – President
WREN ROBIN – Events chairwoman
VERONICA "VERN" SCHULTZ – Buildings and grouds chairman
GINNY CADBURY – Secretary
DALE PRIST – Historian