Casting Call for THE GAY MARRIAGE PLAYS
---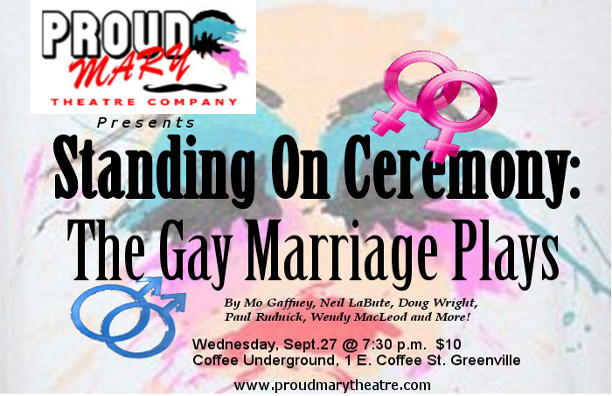 CASTING CALL!!!!
The Proud Mary Theatre Company, South Carolina's first and only theatre group devoted to LGBTQ+ Stories & Voices, is proud to announce its first fundraiser, a presentation of STANDING ON CEREMONY: THE GAY MARRIAGE PLAYS.
An A-list lineup of playwrights (Mo Gaffney, Doug Wright, Paul Rudnick, Neil LaBute, Wendy MacLeod & more) offers unique takes on the moments before, during, and after "I do." Witty, warm, and occasionally wacky, these short one-act plays about Gay Marriage are vows to the blessings of equality, the universal challenges of relationships, and the often hilarious power of love.
This is an On-Book Performance!
Seeking 3 Men and 3 Women (or more) for multiple Parts. All Ages, Genders & Ethnicities welcome!
INTERESTED in a part?
Private Message Sandy Staggs or email sandy@carolinacurtaincall.com
REHEARSALS
Sunday, Sept. 24 afternoon/evening LOCATION TBA
Wednesday, Sept. 27 @ 6 p.m.
LOCATION TBA
PERFORMANCE is
Wednesday, Sept. 27 at 7:30 p.m.
Coffee Underground
1 East Coffee St. in Greenville
www.proudmarytheatre.com
Another Performance is being planned in Spartanburg with a different cast! Details TBA!