2021-22 SEASON
FALSETTOS
Book by William Finn and James Lapine and Music & Lyrics by Finn
October 26-November 6, 2021
UUCS and Greer Center for the ArtsFalsettoscenters on Marvin, who has left his wife to be with a male lover, Whizzer, and struggles to keep his family together. Much of the first act explores the impact his relationship with Whizzer has had on his family. The second act explores family dynamics that evolve as he and his wife plan his son's Bar Mitzvah. Central to the musical are the themes of Jewish identity, gender roles, and gay life in the late 1970s and early 1980s including AIDS.
STOP KISS (A Modern Lesbian Classic)
By Diana Son
March 11-20, 2022
Downstairs Stage, Artists Collective SpartanburgIn this modern lesbian classic by Diana Son, Callie and Sara are walking in the West Village one night when they share a kiss. This leads to a vicious attack by an angry bystander, in which Sara is horribly injured and falls into a coma.
HEAD OVER HEELS (Upstate Premiere)
Conceived by Jeff Whitty with music by The Go-Go's
June 24-July 2, 2022
Solomon Gallery, Artists Collective Spartanburg
Head Over Heels, the bold new musical comedy from the visionaries that rocked Broadway withHedwig and the Angry Inch, Avenue Q and Spring Awakening, follows the escapades of a royal family on an outrageous journey to save their beloved kingdom from extinction — only to discover the key to their realm's survival lies within each of their own hearts. This laugh-out-loud love story is set to the music of the iconic 1980's all-female rock band The Go-Go's, including the hit songs, "We Got the Beat," "Our Lips Are Sealed," "Vacation," Belinda Carlisle's "Heaven is a Place on Earth" and "Mad About You."
BOOTYCANDY (Upstate Premiere)
By Robert O'Hara
August 12-20, 2022
Location TBD
Sutter is on an outrageous odyssey through his childhood home, his church, dive bars, motel rooms, and even nursing homes. Playwright Robert O'Hara weaves together scenes, sermons, sketches, and daring meta-theatrics to create a kaleidoscopic portrayal of growing up gay and Black. Uproarious satire crashes headlong into the murky terrain of pain and pleasure and… Bootycandy.
2019-20 SEASON
THE LARAMIE PROJECT
SORDID LIVES
2018-2019 Season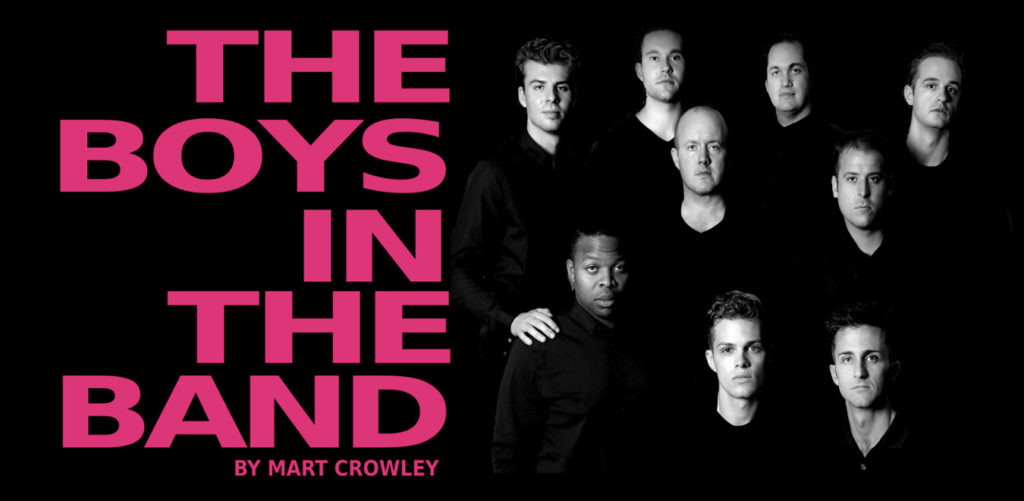 THE BOYS in the Band
by Mart Crowley
October 26 – November 3, 2018
Regional premiere of the new updated script and the 50th anniversary of the original modern gay play that is actually (believe it or not) making its Broadway premiere right now with an all-gay cast starring Jim Parsons, Zachary Quinto and Matt Bomer. Set in 1968 just before Stonewall, The Boys in the Band has a cast of 9 men at a birthday party where the insults flow as freely as the booze. It's a "Who's Afraid of Virgina Woolf?" meets "La Cage Aux Folles."
And the play will be directed by one of the Upstate's finest directors, John Fagan, now approaching his 20th year as producing director of the Warehouse Theatre's Upstate Shakespeare Festival.

---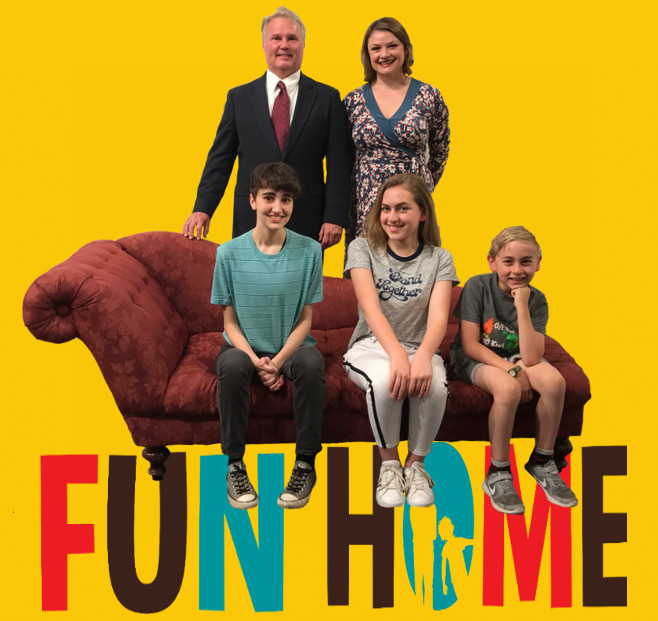 FUN HOME The Musical
June 7-16, 2019
Our first musical and the South Carolina community theatre premiere, Fun Home is based on Alison Bechdel's graphic novel and set in her family's FUNeral home. Shifting in time, this heartwarming and poignant musical depicts her at three different ages as she remembers and confronts her relationship with her father and her own coming of age.
Directed by Kate Roark, who helmed Proud Mary's "5 Lesbians Eating a Quiche," and "Spamalot" at Spartanburg Little Theatre last year.
Musical Director is Janice Issa Wright ("The Rocky Horror Show," "Spring Awakening," "Urinetown" at The Warehouse Theatre")
---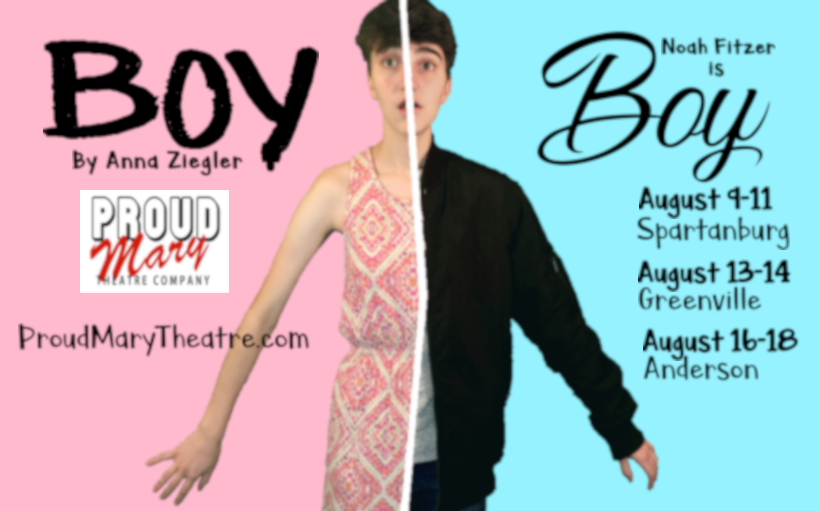 BOY by Anna Ziegler
August 9-18, 2019
BOY, inspired by a true story, is about a well-intentioned doctor in the 1960s who convinces the parents of a male infant to raise their son as a girl after a botched circumcision. Two decades later, the repercussions of that choice continue to unfold. among the tricky terrain of finding love and the confusion of sexual identity.
The titular Boy, Adam, is played by Greenville transgender actor Noah Fitzer, who recently starred as Christian Bechdel in Proud Mary's musical production of "Fun Home." The doctor is played by Spartanburg's Ben Dawkins (a regular player at Spartanburg Little Theatre). Elizabeth Colson and Tyler Smith play parents Trudy and Doug, and Valerie Saporito is Adam's girlfriend, Jenny. BOY is directed by Robert Fuson and stage managed by Cary Doyle.
---
_______________________________________________________________________________
OUR PREVIOUS SHOWS for 2017-18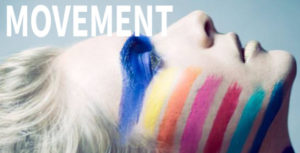 TWO WORLD PREMIERES!
OUR FIRST SOUTHERN FRIED PRIDE PLAY FESTIVAL
MOVEMENT, an Original Devised Performance Piece on Gay History and the Gay Rights Movement.
Directed & Choreographed by Jenna Tamisiea Elser, co-founder of Glow Lyric Theatre and head of Converse Opera.
ALSO on the Program: The World Premiere of "The Kiss" by Barry Whitfield, USC Upstate Theatre Professor
May 25 – June 3, 2018
USC Upstate Blackbox Theatre in Spartanburg,
Humanities and Performing Arts Building
800 University Way, Spartanburg, SC 29303
TICKETS are Now Available.
---
2017-2018 Season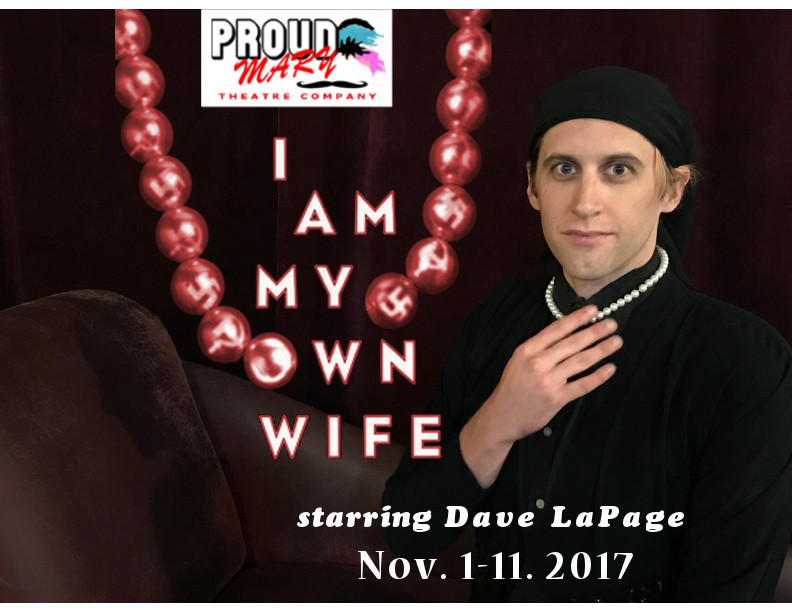 ---
I AM MY OWN WIFE
By Doug Wright
ONE-MAN-SHOW!!
Our Award-Winning Show returns for an Encore Performance in Feb/March 2018
Winner of the 2004 Pulitzer Prize and Tony Award, "I Am My Own Wife" is based on a true story, and inspired by interviews conducted by the playwright. Our debut show stars Upstate actor Dave LaPage (recently in "Death and the Maiden" and "Am I Dead?" at Centre Stage and "Important Hats of the Twentieth Century" at The Warehouse Theatre) in 30 different roles in this fascinating tale of Charlotte von Mahlsdorf, a real-life German Transwoman (a self-described transvestite) who managed to survive both the Nazis and the East German Communist regime, as well as operate a museum and an underground gay and lesbian support group.
---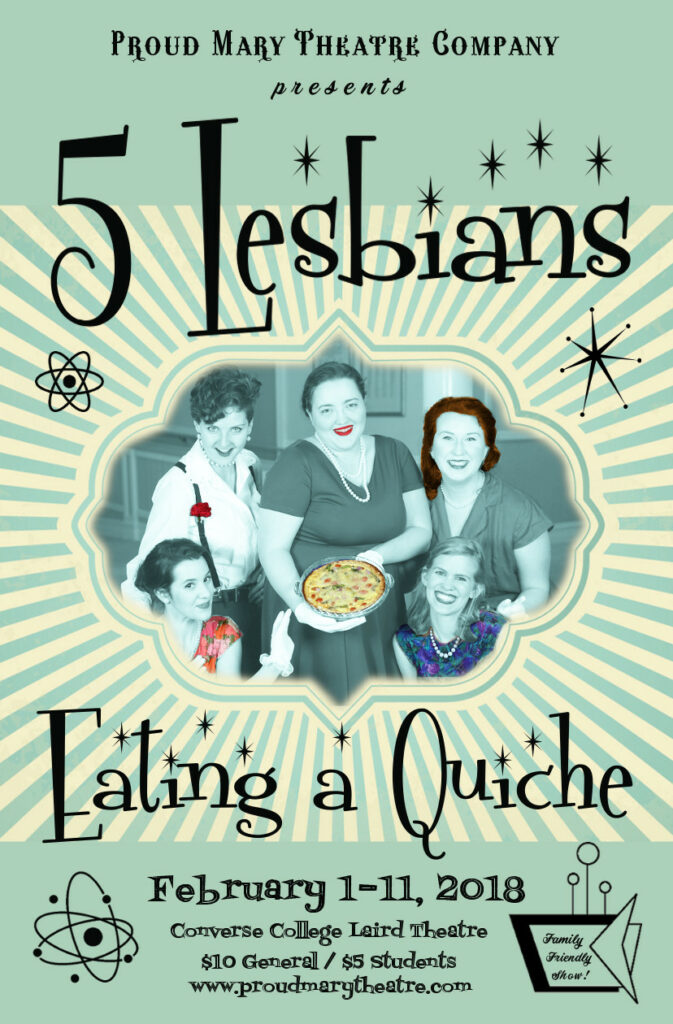 5 LESBIANS EATING A QUICHE
By Evan Linder and Andrew Hobgood
UPSTATE PREMIERE!
February 1-4 & 8-10, 2018
Converse College Laird Studio Theatre
It's 1956 and the Susan B. Anthony Society for the Sisters of Gertrude Stein are having their annual quiche breakfast. Will they be able to keep their cool when Communists threaten their idyllic town?
Directed by Kate Roark.
---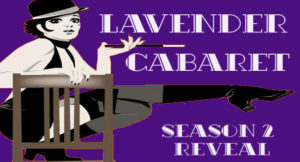 Saturday, June 23, 2018
Join us for Proud Mary Theatre Company's LAVENDER CABARET & SEASON TWO REVEAL. Enjoy selections from some of your favorite gay-themed Broadway musicals including LA CAGE AUX FOLLES, FALSETTOS, FUN HOME, HEDWIG & THE ANGRY INCH and more while sipping wine and nibbling on light hors d'oeuvres. There will be fabulous items to bid on in our silent auction, Raffle prizes, and we will be revealing our exciting line-up of shows for our 2018-19 Season including our very first musical production. Doors open at 7 p.m. at show starts at 8 p.m. Tickets are $15. Aug Smith on Main, 174 E. Main St. in Spartanburg
---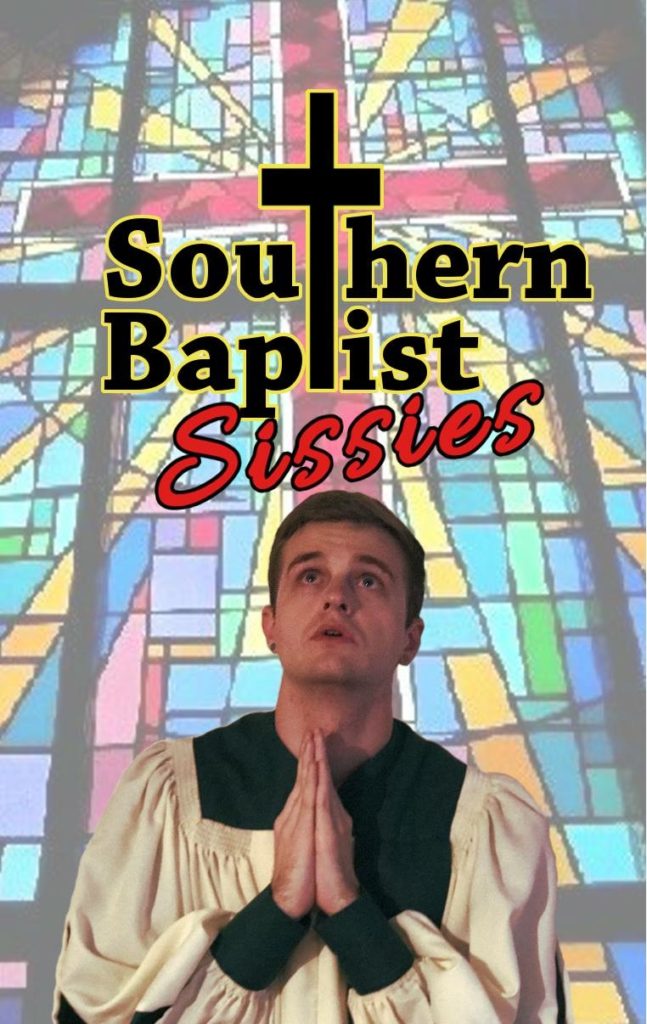 SOUTHERN BAPTIST SISSIES By Del Shores
UPSTATE PREMIERE!
August 2-5, 2018 Spartanburg
August 9-12, 2018 Greenville
This story follows the journey of four gay boys in a Texas Baptist Church who search for love and acceptance in the church and clubs of Dallas, while desperately trying to deal with the pain and rage of growing up gay in the South.
Directed by Barry Whitfield, USC Upstate Theatre Professor