Proud Mary Comes Out on Top in State Competition
---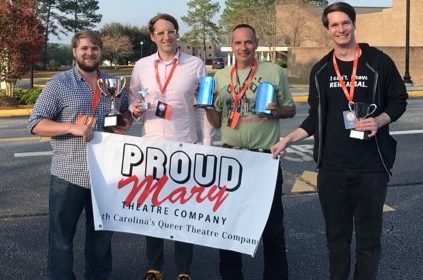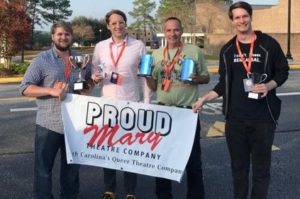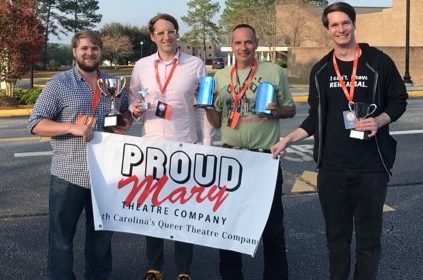 The Proud Mary Theatre Company, South Carolina's first LGBTQ theatre, came out on top at the South Carolina Theatre Association's Community Theatre Festival in Aiken and will represent the Palmetto State in March 2018 at the Southeastern Theatre Conference in Mobile, Alabama.
Proud Mary's inaugural production of the Pulitzer Prize and Tony-winning trans-themed play "I Am My Own Wife" by Doug Wright will move from the Unitarian Universalist Church of Spartanburg and The Ninjaplex in Greenville (venues with seating of 60-100 people and two lights and speakers) to the 1921-seat Saenger Theatre in Mobile.
"We are still in disbelief," said Proud Mary Artistic Director Sandy Staggs about the theatre's unexpected sweep this weekend. "We were admittedly keeping our fingers crossed for Dave LaPage in the Best Actor category, because this part (or these parts, all 35 of them) is such a meaty, demanding role both physically and mentally. And Dave is so fantastic; he is truly a tour-de-force."
Dave LaPage did win Best Actor for his portrayal of Charlotte von Mahlsdorf, a real-life German Transwoman (a self-described transvestite) who managed to survive both the Nazis and the East German Communist regime, as well as operate a museum and an underground gay and lesbian bar and social club.
And top honors also went to Director Robert Fuson and to Staggs, who won for both Set and Sound Design.
Staggs said Proud Mary and the boys (including Technical Director and Lighting Designer Caleb Patterson) will embark on fundraising activities beginning in December to cover the journey to Mobile.