Cast Spotlight: Andy Lecture as the Other Man in Falsettos
---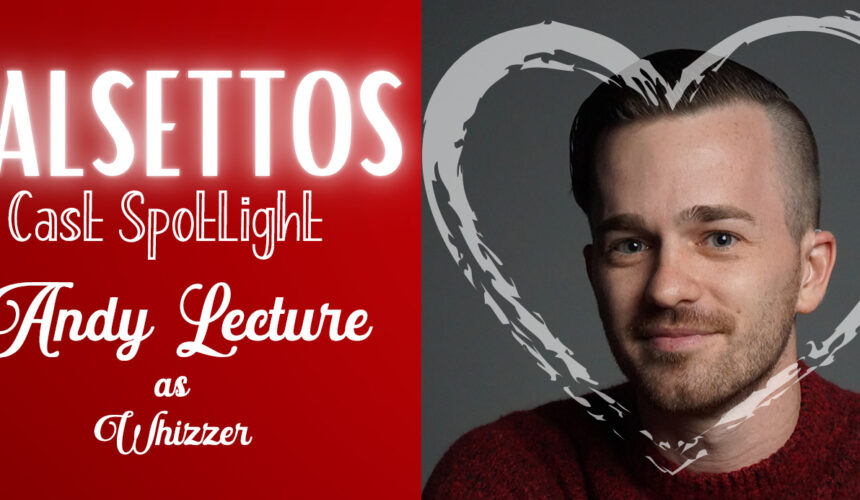 Proud Mary Theatre Company will present the Tony Award-winning musical Falsettos for six performances only October 29-30 in Spartanburg and November 5-6 in Greer.
With music and lyrics by William Finn and a book by William Finn and James Lapine, Falsettos marks the Upstate premiere of this 2016 Broadway revival about a dysfunctional Jewish family in late 1970s New York.
Falsettos includes such modern classics such as "Four Jews in a Room Bitching," "My Father's a Homo," "I'm Breaking Down," "I Never Wanted to Love You," "Falsettoland," "Love is Blind" and more and follows a married Jewish man (played by Brady Coyle-Smith) who leaves his wife for a younger guy, his wife, heir shrink, their son's Bar Mitzvah, the lesbian professionals next door, and the arrival of AIDS.
Andy Lecture (Whizzer)is thrilled and so grateful to be a part of such a beautiful and important production. Whizzer, the younger boyfriend of Marvin, is one of Andy's bucket list roles (and this cast is a total dream team)! Other credits include Roy/others in Fun Home and Benny/Iona Traylor in Southern Baptist Sissies (Proud Mary), Seymour Krelborn in Little Shop of Horrors and Jeffrey/Lamar in Godspell (Fountain Inn Repertory Theatre), and Jake in Second Chance (CentreStage). Andy is also an avid partaker in colorguard, having earned a silver medal in Open Class at WinterGuard International's World Championships in 2015, and earned a spot as a World Class Finalist at World Championships in 2018. He currently teaches Toccata, a winterguard he founded with his incredible husband and partner, Phillip, and the colorguard at Furman University. Andy and Phillip live in Spartanburg with their loving herd of cats, Fiyero, Otis, Bella, Collins, and Michael.
Falsettos also stars Brady Coyle-Smith (Marvin), DeAna Earl (of Centre Stage, Spartanburg Little Theatre, Glow Lyric Theatre and more) as wife/mother Trina; Josh Begelman (Fun Home, Saturday Night Live, WandaVision) plays their young Jason; John Carino (Upstate Shakespeare Festival) as the psychiatrist Mendel; and Samantha Elyer (Fun Home, The Laramie Project) and Hannah Searcy (Fun Home, Spartanburg Little Theatre's The Little Mermaid, and Bright Star at Tryon Little Theater) play the lesbian neighbors Dr. Charlotte and kosher caterer Cordelia.
SEATING IS VERY LIMITED DUE TO COVID. We are social distancing the audience and MASKS ARE REQUIRED by Proud Mary Theatre Company.
All tickets are $25.|
Visit proudmarytheatre.com or call (864) 202-6555 for more info.
SPARTANBURG
Unitarian Universalist Church of Spartanburg
210 Henry Place, Spartanburg, SC 29306
Friday & Saturday, October 29-30 @ 7:30 pm
Saturday, October 30 @ 2 pm
GREER
City of Greer Center for the Arts,
804 Trade Street, Greer, SC 29651
Friday & Saturday, November 5-6 @ 7:30 pm
Saturday, November 6 @ 2 pm
Tags:
Falsettos