The Vultures: Coming Tuesday, June 2, 2020 @ 9 P.M. ON OUR FACEBOOK PAGE!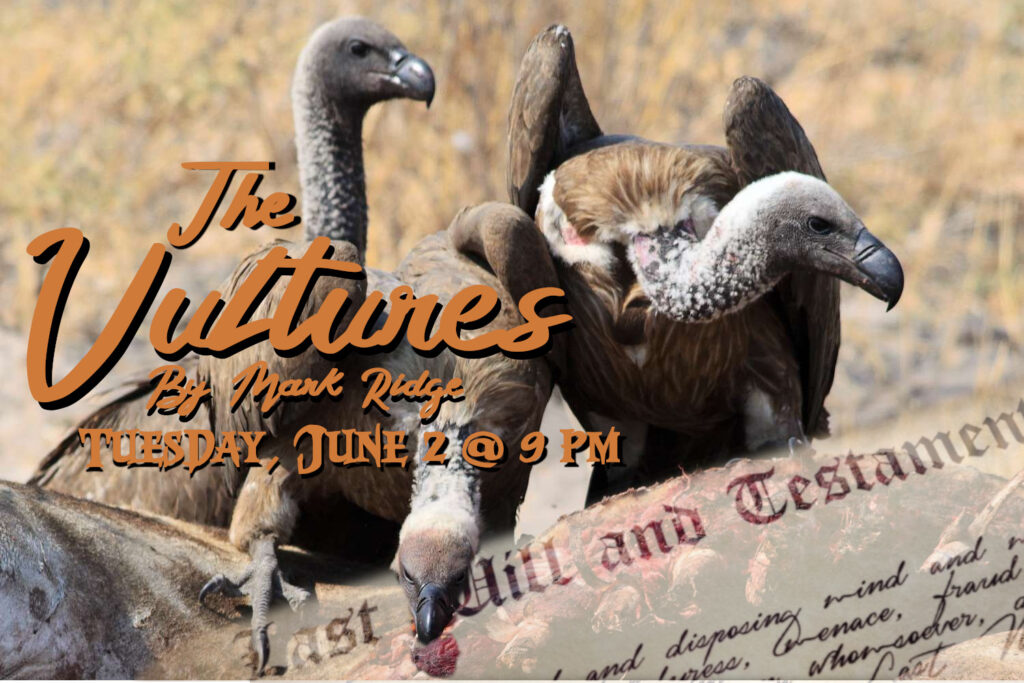 In the vein of And Then There Were None, Clue and Murder by Death, The Vultures puts a modern, comedic, gay spin on the haunted house/ mystery genre.
This Reading is made possible by the generosity of Mark Ridge and special arrangement with Heuer Publishing.
The story takes place at Westmount Estate, on the 20th anniversary of the death of publishing magnate Simon West. As his six remaining relatives gather for the reading of his will, the mysterious housekeeper declares, "The relatives are swooping in like a wake of vultures ready to pick the carcass clean."
Who will ultimately inherit the fortune? Will it be the charming realtor, the handsome male model, the dimwitted nail technician, the bitter old woman, the gay hairdresser, or the mild mannered accountant?
Throw in a priceless pocket watch, an androgynous housekeeper, an escaped mental patient, and a pair of reunited lovers and the result is murder, with a hefty dose of laughs
Watch our BRAND SPANKING NEW VIRTUAL PLAY SERIES every other Tuesdays. Explore some new playwrights, voices, social issues and even musical selections with us. Some of these plays are being considered for future production and your comments and input are encouraged.
Our Virtual Play Readings are TOTALLY FREE, but you can make a Donation at proudmarytheatre.com/donate.
---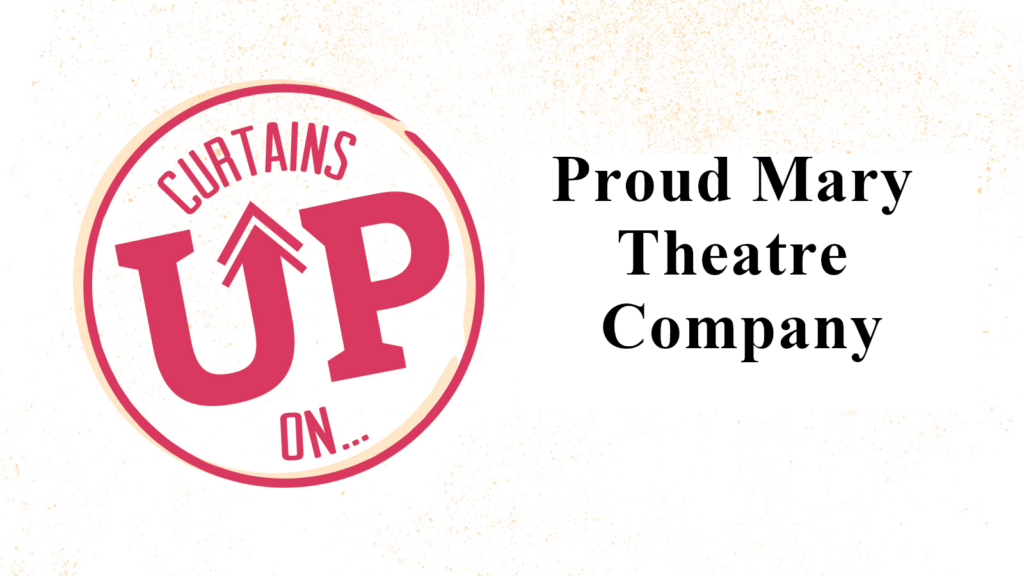 The Curtains Up Coalition spotlight shines on Proud Mary theatre Company in Spartanburg on May 20, 2020. Community theatres are completely shut down during this crazy time. We can't entertain, engage, inspire, give back, employ artists, or fuel our economy like we normally do—so Curtains Up is here to find innovative ways to inspire, create, and advocate!

Curtains Up is a group of community theatre artists creating innovative ways to keep curtains up and audiences inspired. Starting now, during this challenging time when theatre doors remain closed, Curtains Up will produce virtual theatrical content and be a unified front for theatre advocacy and fundraising.
---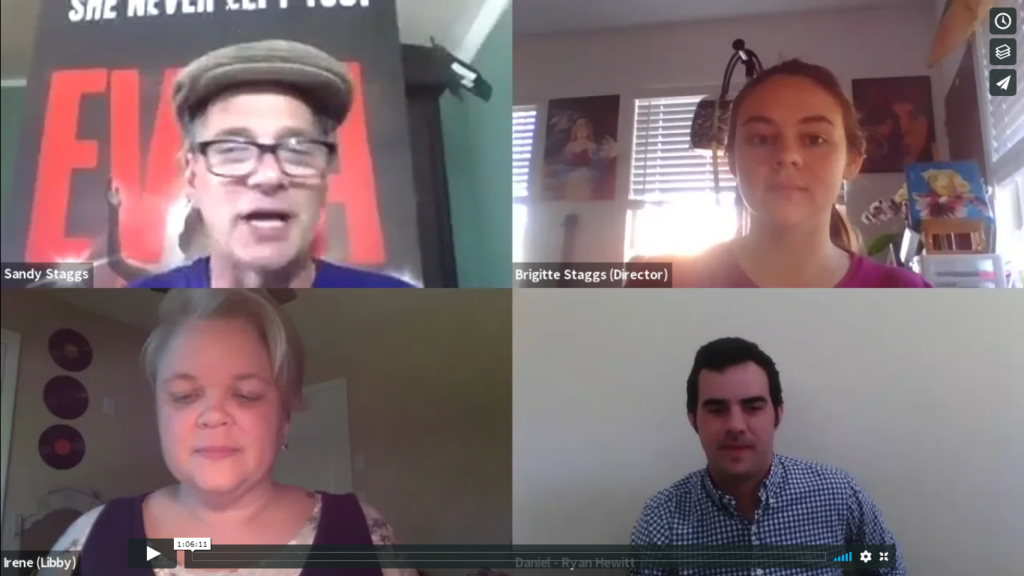 The Little Pony by Paco Bezerra and translated by Spartanburg native Marion Peter Holt follows a young couple grappling with their son's traumatic bullying because of his My Little Pony backpack. Upstate actors Ryan Hewitt and Libby Riggins star in this reading and Brigitte Carpenter directs. The Little Pony was inspired by events that took place in North Carolina in 2014
---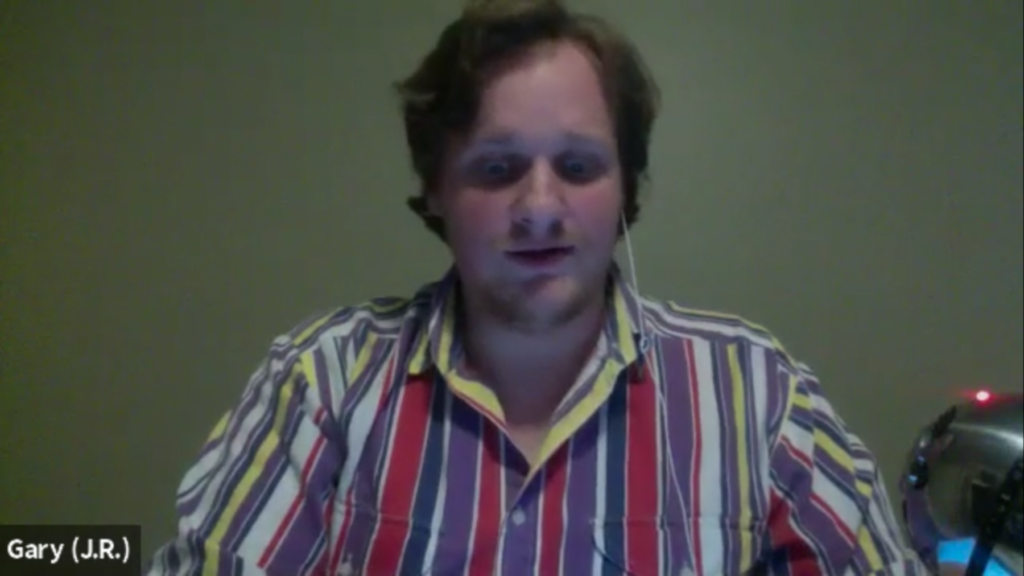 Blue Camp is set at an army detention center on Treasure Island in San Francisco Bay during the early days of the Vietnam War as outed soldiers confront the hypocrisy of the military's treatment of gay servicemen.
---
Enjoy this recording of our Live ZOOM Stream TUESDAY, APRIL 14, 2020 of WHITE PICKET WIVES, a lesbian suburban melodramedy set amid 1950s McCarthyism by Vivian Zelda Strong. A Live Chat with the playwright after the performance. All Plays are TOTALLY FREE, but we are accepting PayPal/Credit Card donations.
OUR MISSION
The mission of the Proud Mary Theatre Company, a 501 (c) 3 non-profit and non-professional theatre, is to advocate for the LGBTQ+ community through the Arts by presenting LGBTQ+ voices and stories in Spartanburg and the entire Upstate region with compelling dramas, rib-tickling comedies, musicals, and local original works and avant-garde pieces that celebrate diversity and acceptance.
Proud Mary Theatre Company was founded in 2017 and has won several awards from the South Carolina Theatre Association and the Southeastern Theatre Conference including Best Production, Best Actor and Best Director.