Tickets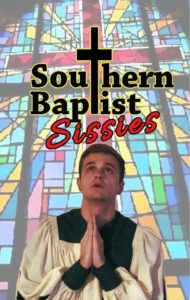 SOUTHERN BAPTIST SISSIES
By Del Shores
UPSTATE PREMIERE!
August 3-12 in Spartanburg and Greenville
TICKETS available HERE!
The award-winning Proud Mary Theatre Company, the Upstate's alternative theatre, concludes its inaugural season with the hit comedy "Southern Baptist Sissies" by Del Shores ("Sordid Lives") on August 3-5 in Spartanburg and August 10-12 in Greenville at two former Baptist churches.
"Southern Baptist Sissies" follows the travails of four young Texan lads as they maneuver between the teachings of the Southern Baptist faith and their budding sexuality. This coming-of-age tale is set in Calvary Baptist Church and a nightclub in Dallas.
The play features four Twenty-something Upstate actors as "the Sissies": Brandon Mimnaugh, Andy Lecture, Damion Deslaurier and Matthew Dylan Hooper.
Featured actors include Kate Roark (director of Spartanburg Little Theatre's "Spamalot") as the three "Mothers" and Doug Egge ("Spamalot") as the Calvary Baptist Church Preacher. Comic relief is provided by Sandy Staggs (last seen in Proud Mary's original performance piece "Movement") and Brigitte Staggs (USC Upstate graduate) as inebriated barflies Peanut and Odette.
"Southern Baptist Sissies" is directed by USC Upstate professor Barry Whitfield (playwright/director of Proud Mary's world premiere of "The Kiss").
SHOW DATES
August 3-4 @8 p.m. & August 5 @3 p.m.
West Main Artists Co-Operative,
578 West Main St. in Spartanburg, SC
August 10 @8 p.m. August 11 @3 p.m. and August 12 @8 p.m.
Greenville Unitarian Universalist Church,
1135 State Park Road in Greenville, SC
TICKETS available HERE!