Tickets
 
VALENTINE'S SPECIAL:
BUY 1 SEASON Subscription for only $20
GIRL, That's All 4 Shows Below!
(expires February 14, 2018)
_____________________________________________________________________________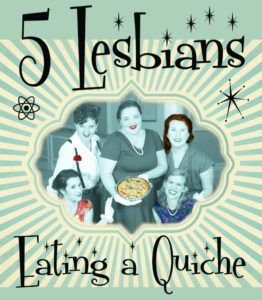 GREENVILLE SHOW ADDED!
5 LESBIANS EATING A QUICHE
By Evan Linder and Andrew Hobgood
UPSTATE PREMIERE!
February 1-4 & 8-10, 2018
Converse College Laird Studio Theatre
February 11, 2018 @ 3 p.m.
Converse College Laird Studio Theatre

Winner of 2012 NYC International Fringe Festival!

It's 1956 and the Susan B. Anthony Society for the Sisters of Gertrude Stein are having their annual quiche breakfast. Will they be able to keep their cool when Communists threaten their idyllic town?
Directed by Kate Roark.
BUY TICKETS
_______________________________________________________________________________________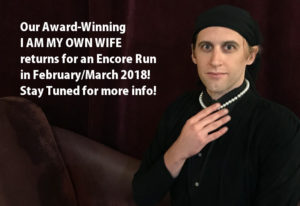 I AM MY OWN WIFE
By Doug Wright
ONE-MAN-SHOW!!
Our Award-Winning Show returns for an Encore PerformanceThursday-Sunday, March 1-3, 2018 at 8 p.m.
West Main Artists Co-Op, 578 West Main, in Spartanburg
Sunday, March 4 at 3 p.m. & Tuesday, March 6, 2018 at 8 p.m.
Coffee Underground, 1 E. Coffee St. in Greenville
Admission: $10
BUY TICKETS
Proud Mary Theatre Company, South Carolina's first and only theatre group devoted exclusively to LGBTQ+ stories and voices, is proud to announce the Encore Engagement of our award-winning one-person show "I Am My Own Wife" by Doug Wright, March 1-6 in Spartanburg and Greenville.
Best Actor winner Dave LaPage, one of the Upstate's top professional acting talents having appeared at Centre Stage and The Warehouse Theatre, returns in 35 roles in this fascinating true saga of Charlotte von Mahlsdorf, the German transgender heroine who survived both the Nazi and Stasi regimes, ran a museum of 19th Century furniture and collectibles, and an underground gay and lesbian social club.
Proud Mary Theatre's production of "I Am My Own Wife" (recipient of the 2004 Pulitzer Prize and Tony Award) won the South Carolina Theatre Association's Awards for Best Play, Best Actor for LaPage, Best Director for Robert Fuson, and Best Scenic Design and Best Sound Design for Sandy Staggs. With Technical Director & Lighting Designer Caleb Patterson, this four-man team will take the show to Mobile, Alabama in the company's largest performance space to date, to represent South Carolina along with 9 other Southern states at the Southeastern Theatre Conference.
<div id="eventzilla-iframe"></div><script type='text/javascript'>window.onload = function() {var iframe = document.createElement('iframe');iframe.id="ifeventzilla";iframe.style.width = "100%";iframe.style.height = "100%";iframe.frameBorder="0″;iframe.src = "https://www.eventzilla.net/web/event_embedd.aspx?eventid=2138943348";var evntzilladiv=document.getElementById('eventzilla-iframe');evntzilladiv.appendChild(iframe);};</script>
_____________________________________________________________________________________
WORLD PREMIERE!
SOUTHERN FRIED QUEER
Original Devised Performance Piece Directed & Choreographed by Jenna Tamisiea Elser, co-founder of Glow Lyric Theatre and head of Converse Opera.
ALSO on the Program: The World Premiere of "The Kiss" by Barry Whitfield, USC Upstate Theatre Professor
May 24 – June 3, 2018
USC Upstate Blackbox Theatre in Spartanburg
SINGLE TICKETS AVAILABLE SOON!
________________________________________________________________________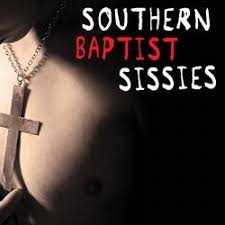 SOUTHERN BAPTIST SISSIES By Del Shores
UPSTATE PREMIERE!
August 2-5, 2018 Spartanburg
August 9-12, 2018  Greenville
This story follows the journey of four gay boys in a Texas Baptist Church who search for love and acceptance in the church and clubs of Dallas, while desperately trying to deal with the pain and rage of growing up gay in the South.
Directed by Barry Whitfield, USC Upstate Theatre Professor
SINGLE TICKETS AVAILABLE MARCH 2018!
__________________________________________________________________

VALENTINE'S SPECIAL:
BUY 1 SEASON Subscription for only $20
GIRL, That's All 4 Shows Below!
(expires February 14, 2018)